Unit-E Dance Team / Youth Worship Team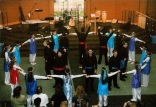 The Elijah Generation — A Generation of Excellence!
"I will send you the prophet Eliyahu before the great and dreadful day of the L-rd. He will turn the hearts of the fathers to children, and the hearts of children to their own fathers."


Here are some videos of our performances, from Sarasota, FL, MJAA & R2J / Road to Jerusalem Conferences in Orlando, FL; Tampa, FL; Charlotte, NC; Branson, MO; Hampton, VA; Denver, CO; Los Angeles, CA; MJAA NWR, SER...
Note!! These are very large files! It is highly recommended you *download* the videos, by right-clicking on the links and choosing Save Target/Link As..., instead of trying to play them online. Most media players have to download the whole video first before playing it anyway... However, if you know that you have a program which will in fact stream the video (the free VLC Media Player for example), then simply right-click on a video and choose Copy Shortcut, and paste that address/URL into your program's "Open URL/Address/Network Stream" menu option.
MJAA SE Regional
Orlando, FL — December 21-22, 2013
We Love Israel
Sarasota, FL — January 27, 2013
MJAA SE Regional
Orlando, FL — December 23, 2012
Celebrate Israel
St Pete, FL — April 28, 2012
MJAA SE Regional Conference
Orlando, FL — December 19, 2011
MJAA SE Regional Conference
Orlando, FL — December 18, 2010
PK/R2J Conference
Orlando, FL — August 28, 2010
PK/R2J Conference
Hampton, VA — April 10, 2010
MJAA Southeast Regional Conference
Orlando, FL — December 19, 2009
R2J Conference
Boulder, CO — August 1, 2009
Bless Israel Event
Tampa, FL — February 22, 2009
R2J Conference
Charlotte, NC — November 8-9, 2008
R2J Conference
Tallahassee, FL — September 5-6, 2008
R2J Conference
Charlotte, NC — November 8, 2007
R2J Conference
Branson, MO — August 16-17, 2007
R2J Conference
Hampton, VA — July 20-21, 2007
R2J Conference
Denver, CO — October 21-22, 2006
R2J Conference
Hampton, VA — July 21-22, 2006
R2J Conference
Los Angeles, CA — January 20-21, 2006
Unit-E with R2J @ OneThing 2005
Kansas City, Misouri — December 31, 2005
Unit-E at the UF CPA
Gainesville, Florida — December 15, 2005
Unit-E in Israel
Karmiel, Israel — July 2005
Unit-E @ R2J Orlando
Orlando, Florida — June 2005
Unit-E @ Karmiel, Israel
July 2004
Chayalim Shel Mashiac @ MJAA NWR
Portland, OR — February 15, 2003
Promise Keepers Conference
Phoenix, AR — February 18-20, 2003
Ani Ma Amin @ the MJAA SE
Orlando, FL — December 20, 2002
Ani Ma Amin @ the MJAA SE
Orlando, FL — December 21, 2001